Meet Our Team
Supporting Wild Hearts Equine Therapy Center is a team of professionals who are dedicated to helping our clients and making the Center a success.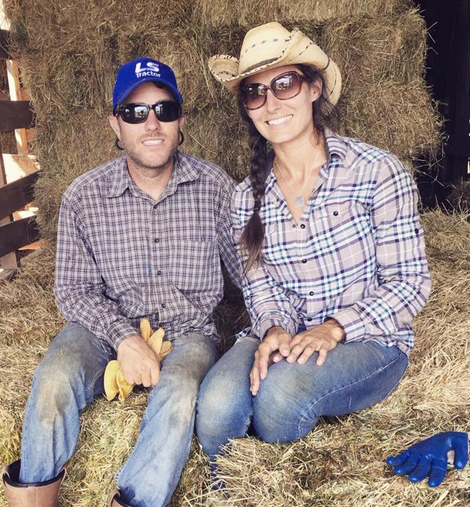 Jessica Fry, Founder
Wild Hearts Equine Therapy Center
Chairman, President & CEO
Jessica Fry is the founder of Wild Hearts Equine Therapy Center and Hoppin' Horse Farm. Having spent most of her life in the presence of horses, she has developed a deep understanding of the power of equine therapy that few possess. Jessica has dedicated several years to hosting therapeutic riding sessions for special needs children and adults, as well as people with PTSD and victims of abuse. She has also committed countless hours to helping individuals of all ages experience the personal growth that comes from making powerful connections with horses. In addition to her experience with therapeutic riding, Jessica is formally trained in EAGALA therapy and planning to pursue a Natural Lifemanship certification. Her love for rescuing and training horses spawned a highly effective method of incorporating the principals of natural horsemanship (following the methodologies of Ray Hunt and Mark Rashid) into all that she does. She has a deep passion for allowing the loving, well-mannered horses she has trained to be the cornerstone of the innovative and comprehensive equine-assisted therapy programs that Wild Hearts Equine Therapy Center provides. Jessica's vision for Wild Hearts Equine Therapy Center is to create a place for any and all who need assistance wading through the waters of life
---

Janine Hartley, Secretary of the Board
Operations Manager & Volunteer

Janine brings both organizational experience and equine-based skills to Wild Hearts Equine Therapy Center. She spent two decades as a human resources executive, assisting several start-up companies with organizational development and personnel management. In 2000, Janine shifted her focus to veterinary medicine, becoming a certified veterinary technician. During her veterinary tenure, she acted as lead technician while also managing hospital operations and staff. She also assisted with equine therapy programs at Pikes Peak Therapeutic Riding Center. Being raised on a farm gave Janine an appreciation for the role animals play in our lives. Her understanding of this role is documented in her Bachelor of Science thesis paper, The Human-Animal Bond. Janine earned her Bachelor of Science in Organizational Development from Colorado Christian University in 1994 and an Associate of Applied Science from the Bel-Rae Institute of Animal Technology in 2001.
---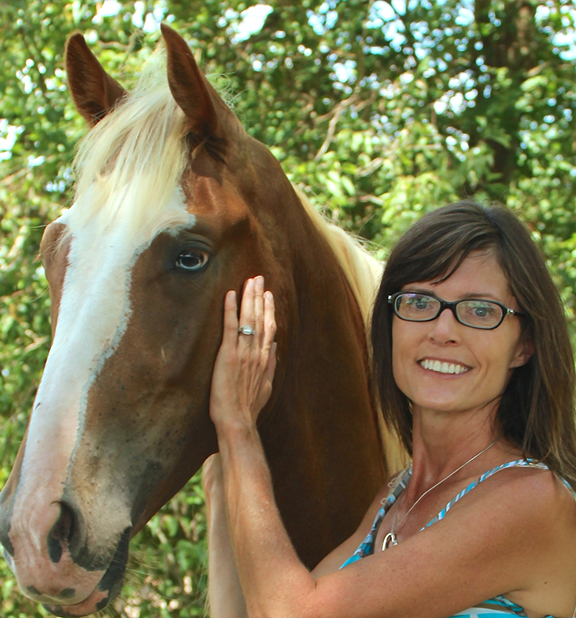 Jani Farlow Spede,
Team Building/Leadership Training Consultant & Volunteer
President, Spede Communications

A passion for bringing the indelible lessons that only horses can provide, coupled with more than 20 years of executive-level leadership experience, inspires Jani to design innovative team building and leadership programs for Wild Hearts Equine Therapy Center. After rescuing her beloved horse, Tango, and serving as a volunteer for equine therapy sessions for both special needs children and executive teams, Jani brought her conference room sessions to the pasture to provide more impactful (and memorable) experiences for organizations that help them accelerate growth and position their teams to thrive. Jani's own executive roles have included serving as vice president for Chicago-based telehealth firm, First Stop Health; CEO of The Canary Project (a safe driving app); Director of the MBA program at Clemson University; and SVP of sales and marketing for Hoover's, Inc. (owned by Dunn & Bradstreet). She is president of Spede Communications, an agency that provides strategy development and marketing services to global enterprises, small businesses and non-profit organizations. Jani earned a bachelor's degree in English (with honors) from Ball State University, attended graduate school at the University of Florida and completed the Global Institute of Leadership Development's executive program.
---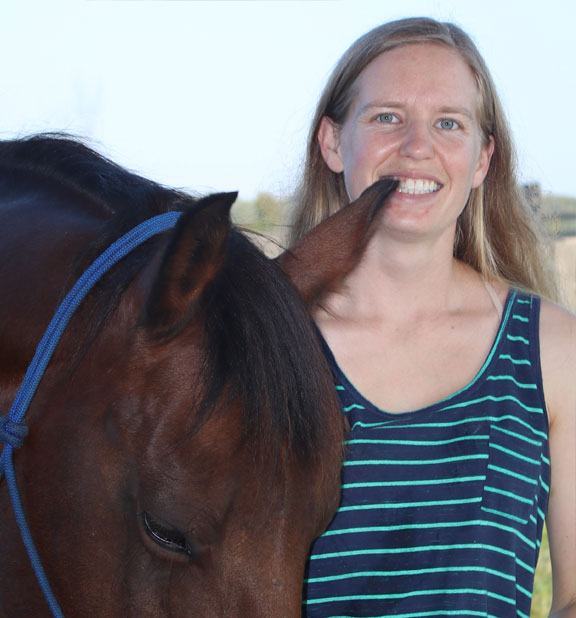 Meredith Donaldson
To hear her mom tell it, Meredith was born horse crazy. She sought every opportunity to be around horses and finally talked her parents into riding lessons at age 9. At age 13 she volunteered with her first therapeutic riding program and never looked back. Since that time she has been involved in the horse industry as a rider, volunteer, horse owner, trainer, instructor and program coordinator. Having worked with multiple different professionals, programs and disciplines, Meredith has a flexible mindset centered around communicating clearly with each individual horse and rider. Meredith is a PATH Intl certified riding instructor and is very excited to be getting back to barn after a hiatus taking care of her young children.
---
Di Ucci
BA, MA Ed, RN
Di's forty plus year career has been dedicated to Human Services. Starting out as a teacher in Washington DC she went on to receive her Master's Degree in Confluent Education from University of California in Santa Barbara. This led to mediation, training and facilitating in educational, health care and non-profit settings. She worked with high risk children and teens in the Asheville North Carolina School System, as well as the Black Mountain Home for Children. Designing and implementing a national curriculum for Job Corps students in Conflict Resolution was a highlight. She began a second career as a Registered Nurse in 2006 and has been trained in CRM (Community Resiliency Model) which she uses with patients to help them self-regulate during times of stress and pain. She has received part one of the Fundamentals Certification in Natural Lifemanship, a Trauma Informed Equine Therapy program. At this stage in her life she wants to combine her passion and love of horses with her dedication to assisting people with the ongoing challenges of life.
---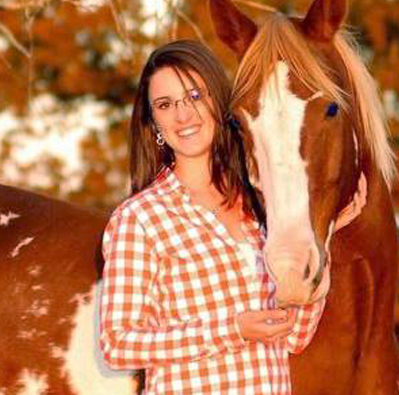 Lauren Hamrick
Lauren Hamrick is a two-time graduate of Clemson University with a Master's Degree (2013) in Animal and Veterinary Science and a BS in Animal and Veterinary Science (2011), with a concentration in equine business. She was involved in the development of the Clemson Equine-Assisted Therapy program and has been a horse owner for 14 years. Lauren has a strong passion for animals of all kinds and enjoys spending time with her husband, Jon, and daughter, Sophia. Their family farm consists of 2 horses, 4 dogs, 2 cats, and an assortment of laying hens.
---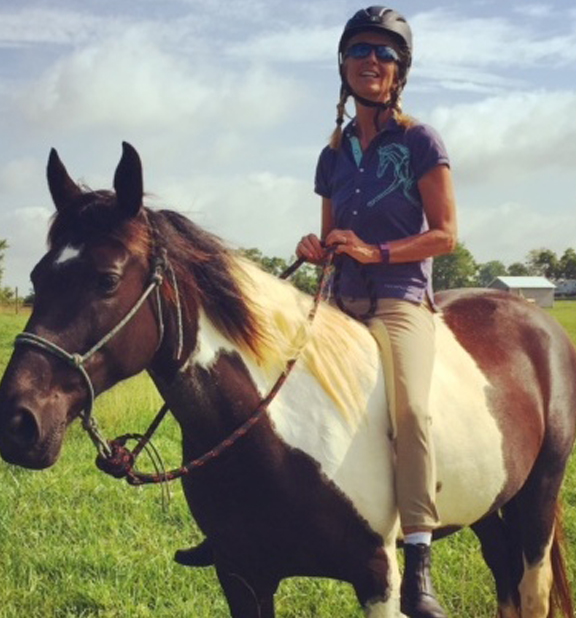 Jean Ellen Zavertnik
Board Member
Simulation Director/
Lecturer Clemson University

Jean Ellen has been a registered nurse since 1979. She is an advanced practice registered nurse, has a doctorate in nursing and is currently a full time faculty member at the Clemson University's School of Nursing. She has been a leader in her church and active in the community. She volunteers with the Student Nurses Association, Family Promise of Pickens County and many other organizations. For several years, Jean has raised puppies, trained dogs and participated in fund-raising activities for Canine Companions for Independence, an organization providing service dogs to those in need.
---

Jennifer Cartledge
MS, Board Member & Volunteer
President, Adva- Tec, Inc.

Jennifer is an executive with over 20 years of product development, and Regulatory Affairs experience in the healthcare industry. Prior to joining ADVA-Tec, she co-invented a novel technology deployed in the oncology market. She obtained her Masters of Science degree in Bioengineering from Clemson University and maintains an appointment on the Clemson Bioengineering External Advisory Board. Following her daughter's love of horses, the Cartledge family adopted a cherished rescue horse and became volunteers for Wild Hearts Equine Therapy Center.
---
Justin Cartee
Fundraising & Community Outreach

Justin was born and raised in Oconee County, where his FFA class was instrumental in starting the Oconee Heritage Fair over a decade ago. After graduation, he spent four years working on avionics equipment in the Navy while earning his Associates degree in Applied Electronics. During his time in the Navy, he sponsored a special needs class at a local high school and caught the bug for helping others. Upon his return from the Navy, Justin worked as an electrical engineering technician for three years. For some time now, it has been his desire to help children with special needs. He is currently perusing a BSTM in Project Management and volunteering at Wild Hearts where he not only assists with therapy sessions, but also lends a hand to help with building and maintenance projects, is in charge of fundraising and assists with community outreach events. When not studying, hunting, or hanging out with his dogs Daisy and Dash, Justin loves spending time at Wild Hearts.
---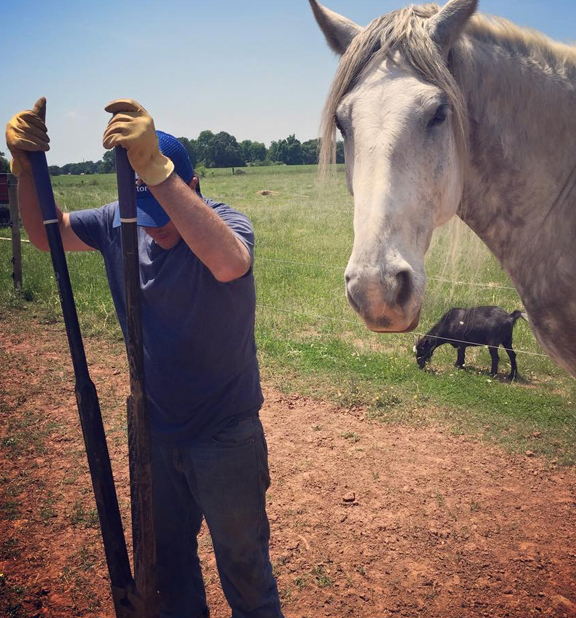 Mike Ledford
Advisor & Facilities Manager
Duke Energy
Mike is essential to operations at Wild Hearts Equine Therapy Center. To date, he has been responsible for all facilities planning and construction projects at the Center. Mike is currently an assistant outage manager at Oconee Nuclear Station where he has worked since 2008. Prior to his time at Oconee Nuclear, he owned a construction company and managed several large scale building projects while leading construction teams to meet aggressive deadlines. He earned an Associate of Applied Science in Industrial Electrical Engineering from Tri-County Technical College that same year. Mike holds numerous industry certifications including Protective Relaying, Maintenance and Calibration, and EPRI Procurement Engineering. He enjoys spending his spare time with Jessica and their three sons.
---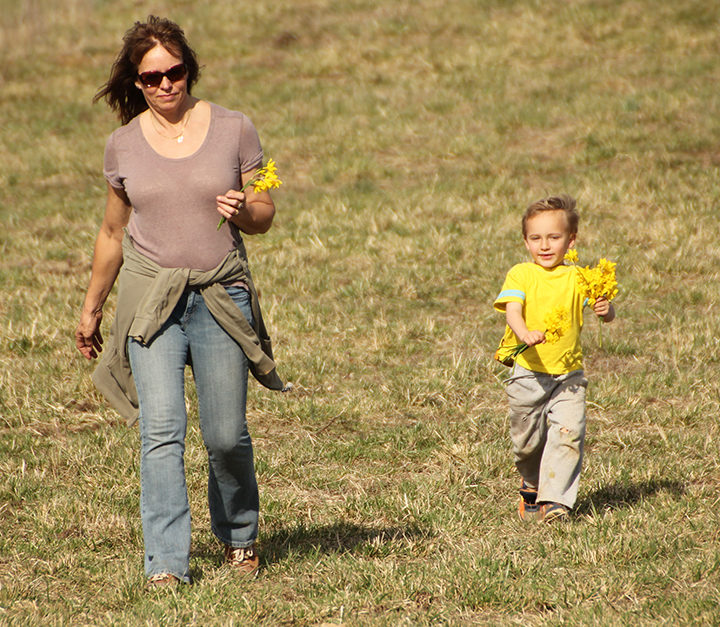 Tanya Fry
Advisor & Volunteer
Licensed Massage Therapist

Tanya served in the United States Navy for four years and then served in the Naval Reserves while attending Nursing school where she earned her LPN. She practiced as a nurse for 28 years during which time she obtained her license in neuromuscular therapy. She currently practices as a Licensed Massage Therapist in Seneca SC. She and Steve were married in 1980 in Dundee Scotland where their daughter Jessica was born followed by their son, Dustin in Hawaii. Together they have given her and Steve four grandsons. Tanya likes to devote most of her spare time to educating herself on spiritual healing practices.
---
Steve Fry
Advisor & Volunteer
CEO, Keystone Technologies, LLC

Steve has over 38 years of experience in national security and information technology projects. For 22 years, he served the United States Navy as a Master Chief Cryptologic Technician where he performed intelligence collection and analysis operations in support of strategic and tactical objectives onboard ships, aircraft and land-based facilities. While on duty with the Navy, he earned a degree in business administration from Excelsior College. After retiring from the Navy, Steve continued to support the Navy as a government contractor with Space and Naval Warfare Atlantic. In 2002, Steve was assigned as the project manager for the Coast Guard's National Distress and Response System Modernization Project. In 2010, he served as program manager for the Tactical SATCOM systems integration team supporting Special Operations Command. He is an active member in the Charleston Defense Contractor's Association (CDCA) and the Armed Forces Communications and Electronics Association (AFCEA). He and his wife Tanya have been married 34 years, have two children and four grandsons. Most of their free time is dedicated to family activities and supporting Wild Hearts Equine Therapy Center.
---
Bruce Hartley
Advisor
Vice President, Discovia

Bruce has a wealth of experience in building and managing corporations, as well as raising funds through relationships and venture capital firms. He holds a Doctorate in Computer Science and has held several corporate officer positions, including CIO, CTO, COO, and CEO. He is currently a Vice President at Discovia, a leading Managed eDiscovery firm based in San Francisco, CA. He is a military Veteran, having spent six years in the Air Force leading missile warning software development efforts at the NORAD Cheyenne Mountain Complex. His computer expertise expanded to US strategic defense positions supporting many national Intelligence Community programs. Bruce is a retired Partner at Deloitte FAS LLP, where is functioned as their National Practice Leader for Discovery Services. His passion for assisting children stems from his own childhood spent in painful leg braces with no hope of ever walking right, let alone being able to run. Through extensive physical therapy and the efforts of a dedicated father and an Army orthopedic surgeon, he eventually was able to not only walk and run, but played high school football. In addition, he became a black belt in Karate, winning several national tournaments and teaching karate to children. His compassion for children, especially those with physical challenges, drives his desire to be a part of Wild Hearts.
---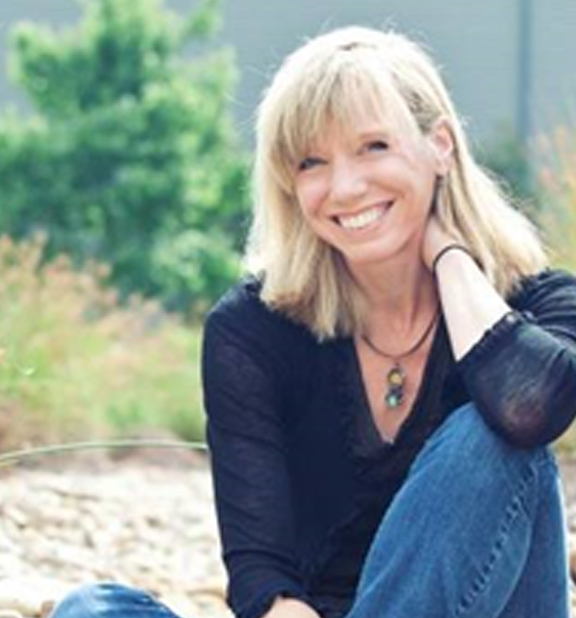 Jan Bridwell Walker
Advisor
Professor, Anderson University

Jan Bridwell Walker grew up in Kingsport, Tennessee. Jan worked as a graphic designer at WATE-TV6 in Knoxville, Tennessee before earning a Master of Arts degree in Art History with an emphasis in Aesthetic Philosophy from East Tennessee State University in 2004. Jan served as Assistant Professor of Art and Department Chairperson at Erskine College in Due West, South Carolina. She currently teaches Art History at Anderson University in Anderson, South Carolina. Jan is also an eating disorder survivor and advocate, and is a volunteer speaker of the National Eating Disorder Awareness organization. She is a member of NewSpring Church, and an avid hiker, runner and visual artist.
---

Alexandra Tracey, DVM
Advisor & Veterinarian
Owner, Palmetto Equine
Veterinary Services

Dr. Alexandra Tracey, one of only two practicing board certified large animal surgeons (DACVS-LA) in South Carolina, has been dedicated to horses since her first riding lesson many years ago. She has competed in eventing, dressage, western pleasure, barrel racing, and even polo over her years. Veterinary medicine and surgery are more than a job or a career for Dr. Tracey…they are a calling and she commits her life to the complete care and health of her patients. After graduating from veterinary school at Kansas State University in 2008, Dr. Tracey spent a year as an intern at the top equine hospital in the world, Rood and Riddle Equine Hospital in Lexington, Kentucky. Following her time in Kentucky, Dr. Tracey moved to Iowa to complete a residency in Equine Surgery. After three years of residency and one year as the emergency surgeon for Iowa State University, Dr. Tracey moved south to enjoy warmer weather and rejoin the horse communities of her youth.
---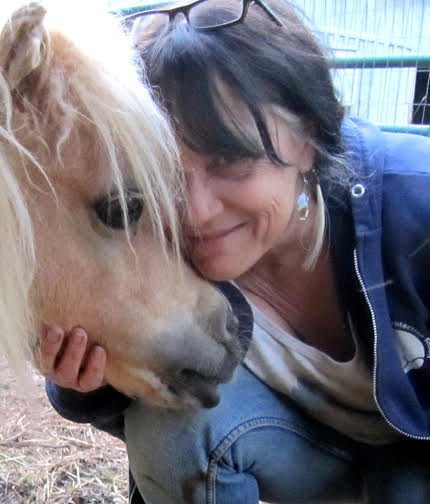 Cindy Sullivan
Advisor
Owner, Tribe Equus

Cindy "Hawk" Sullivan is a professional hoof and horse rehabilitation practitioner, clinician and instructor who has been involved in the modern "barefoot" movement since 1998. She is the owner of the web site www.TribeEquus.com; Co-Founder, Senior Instructor, Director of Academic Affairs of the Equine Sciences Academy www.equinesciencesacademy.com; Board of Directors and Operations Manager of Whisper Ranch Equine Rescue www.WhisperRanch.org
Horses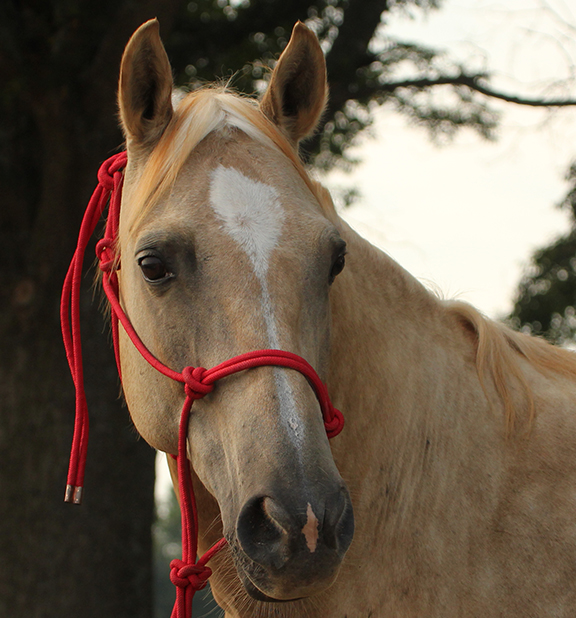 Victory
Victory arrived at Hoppin Horse Farm in 2013 thin and malnourished, with little to no training. Today he is an essential part of our lesson and therapy program. He has a knack for knowing when a rider is not ready, even when they think they are. He will not move out until unbalanced seats become balanced. He is a farm favorite with the kids and absolutely adores neck hugs. Victory is 13.3 hands and about 11 years old.
---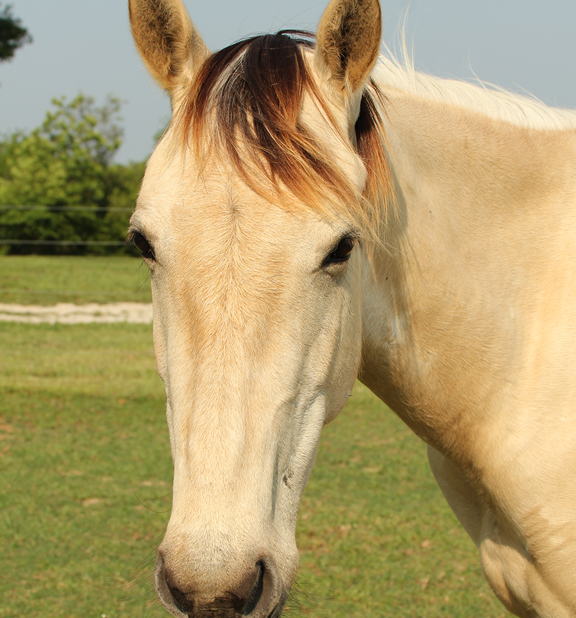 Scout
is a wonderful buttermilk buckskin owned by Ann Barker who adopted him from a local rescue after he was seized from his original owners by animal control. Scout was barely 2 years old upon seizure and he is still growing due to his lack of nourishment at such a young age. He's one of the first to meet you in the pasture and enjoys all the attention he gets from our lesson students. Scout works minimally in our lesson program due to his young age but we are sure he will become a star as he grows into his own. He is 3 yrs old and 14 hands (but still growing!)
---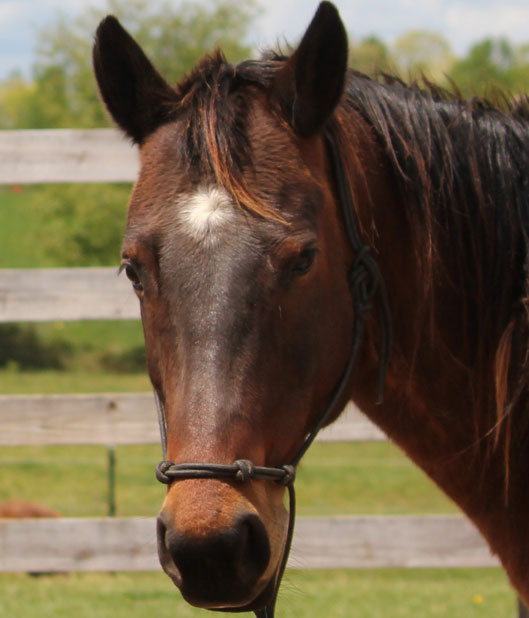 Shiloh
Shiloh has a heart of gold born from situations unknown. He came to us underweight and untrusting. His body has blossomed, while his heart and mind are ready to be tapped. While it is obvious that he suffers from some form of post-traumatic stress disorder, it provides a foundation for him to truly understand our Veteran population. His kind and willing spirit is a breath of fresh air for those who have the honor of working with him. Shiloh is approximately 14.5 hands and about 11 years old.
---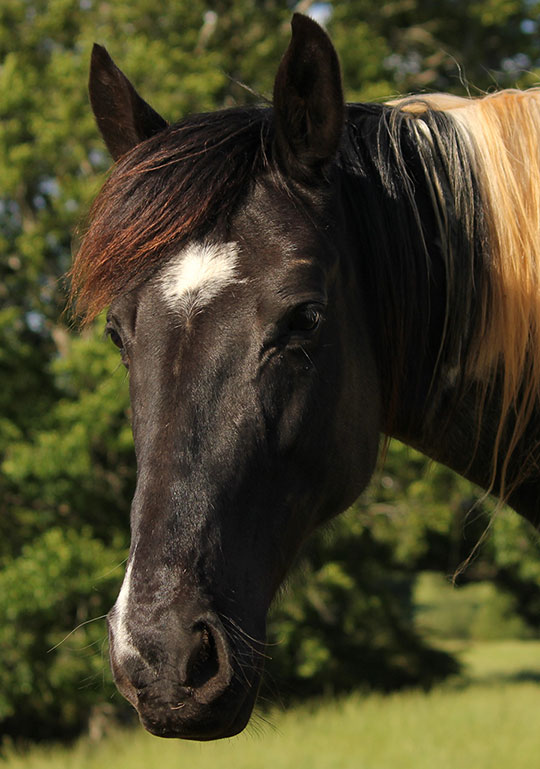 Clara
Clara is a beautiful black and white Tennessee Walking horse. Clara was rescued with Shiloh from a neglectful home in the winter of 2014. She was covered in lice and severely underweight. So severe was the starvation in her herd that one of her pasture mates did not make it after being rescued. Two years of quality care and kind, considerate horsemanship helped this beautiful mare become the wonderful therapy assistant she is today.
---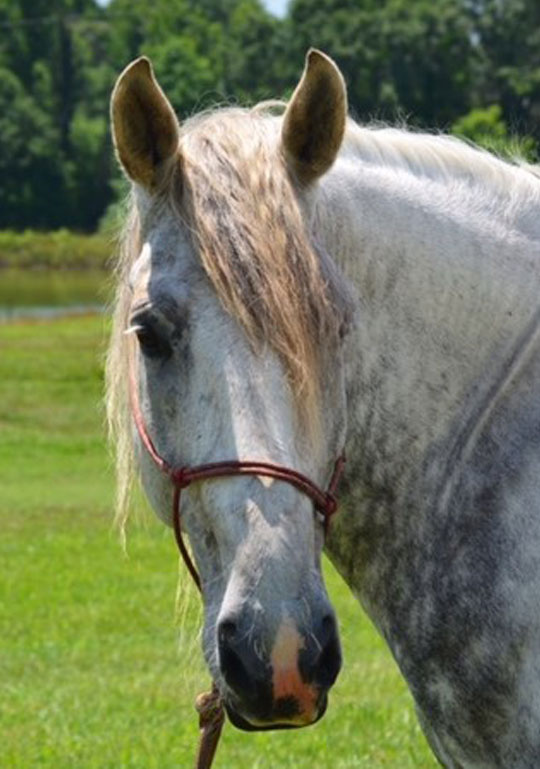 Thunder
Thunder is gray Percheron who came to us at age 11 from a loving environment but with minimal training. His mother was carrying him, as part of the PMU movement, when she was adopted by a wonderful woman named Robin. He stayed with his mother for six years before she passed. Standing at 18 hands and sounding like rolling Thunder when he gallops, Thunder is now 14 years old and loves working with our clients!
---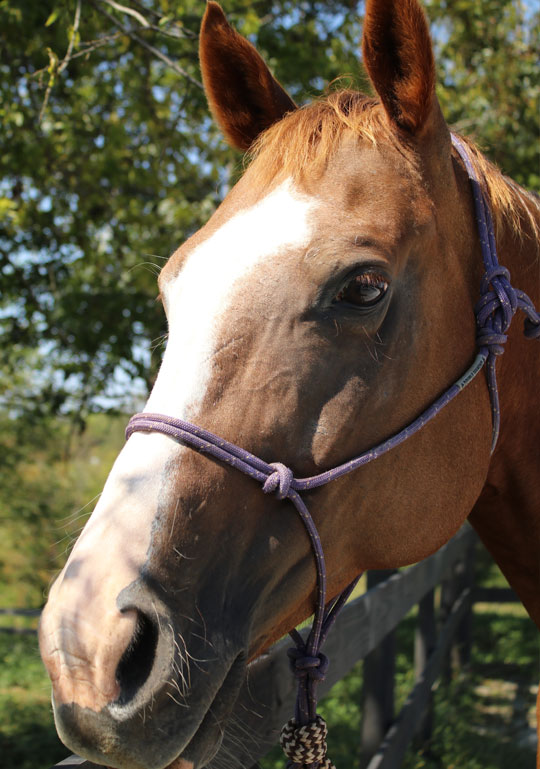 Ariel
Ariel is relatively new to our program, having been donated to us by a local Clemson student, who still finds time to visit. Ariel is a beautiful 10-year old Appendix chestnut mare and stands at 16.1 hands. She is learning the ropes of being a therapy horse while working with Special Olympics and our veterans.
---
Cliff
Our resident miniature donkey, Cliff, was born at The Cliffs in northern Oconee county. He's approximately 10 years old and was purchased for us by one of our volunteers who also sponsors his annual health care. He has been a wonderful addition to our equine staff and has quite the personality, braying when we need to be reminded that it's time for him to go graze!
---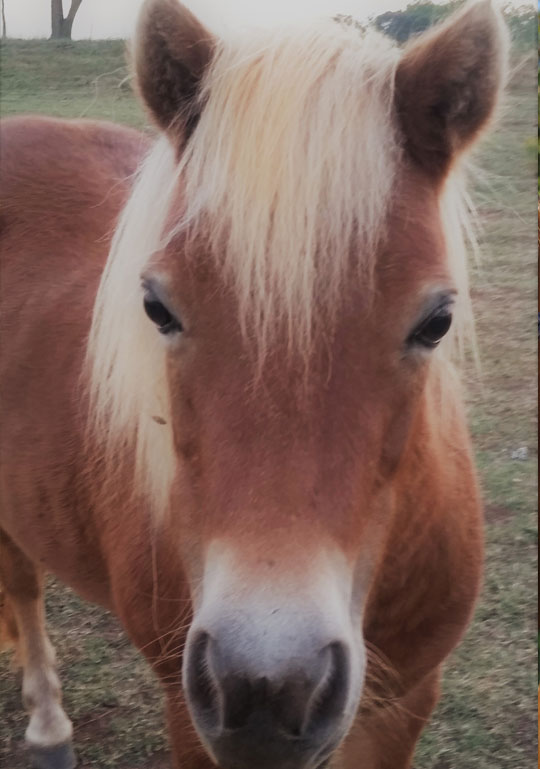 Cinnamon
Sweet little Cinnamon is a 12 year old miniature pony who was donated to our program by a local physician after Cinnamon's sister, Sugar, was fatally injured. Cinnamon knows how to do everything and is our universal pony. She carries our smaller clients and helps them feel confident and reassured, while also helping our adults who just want to form a bond.
---
Napoleon
This little miniature man is quite the character. He does tricks and spends his days annoying the bigger horses. He's the first to figure out how to get out, but never leaves! He truly does love to rule the roost and is in love with Cinnamon.
---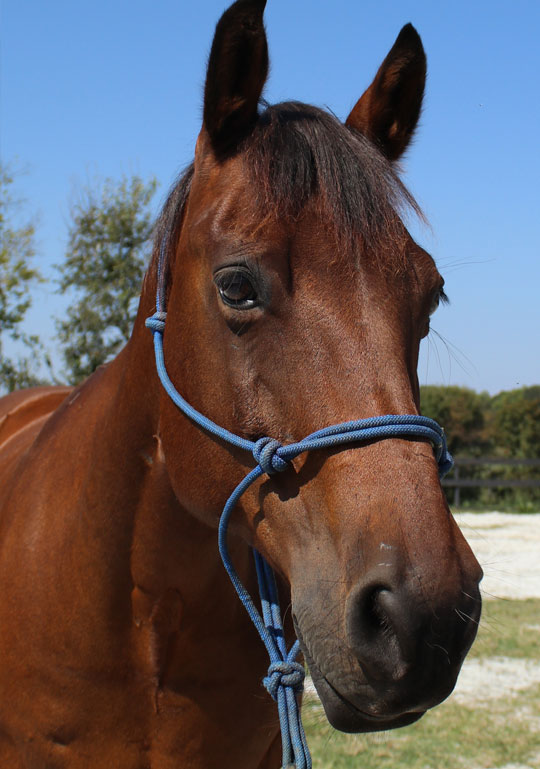 Moe
Moe is a very handsome bay quarter horse who was donated to us by a local farrier who stops in regularly to visit him. He came to us with some therapy experience and is fitting right in with Special Olympics. He's even stolen the heart of one of our volunteers.
---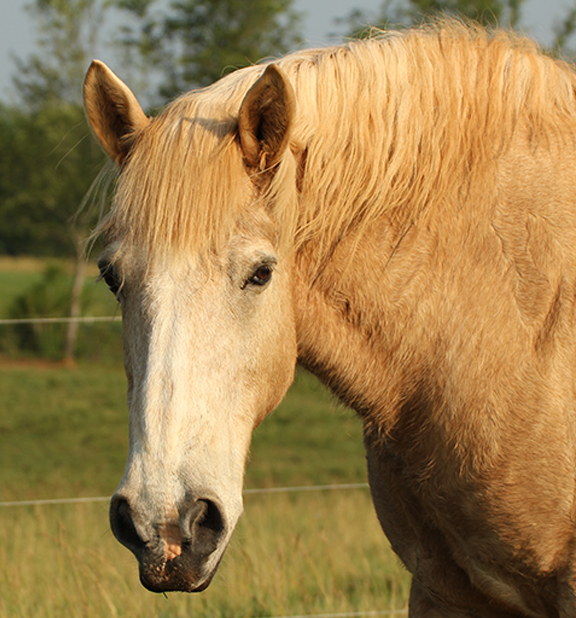 Mac
Mac was our Belgian draft horse. He came to the farm with Victory and Roscoe as one of the first three horses we acquired in 2013. Like most of our horses, Mac was a rescue. At the time, he was approximately 22-23 years old and was rumored to have been a carriage horse in Charleston. But a rescued horse's past is normally a secret only the horse truly knows, and lucky for us most horses are quick to leave a sad history behind. His body condition was terrible when he arrived and we honestly didn't know if he would make it two more weeks. But with lots of love and over 300 acres of pasture to roam freely on he made a quick and strong recovery. He was an integral part of our early programs, helping people to understand that horses can be kind and sweet. Mac crossed over the rainbow bridge in July of 2017, having had four blissful years at Hoppin' Horse Farm and Wild Hearts. We miss him sorely.